Cataract surgery recovery​
Program efficacy after cataract surgery:
RevitalVision is clinically proven to enhance vision after cataract surgery. Patients who find it difficult to adjust following cataract surgery can shorten their adaptation period in a fast and effective manner. If interested, these patients are excellent candidates for RevitalVision program. Significant vision improvement is expected in just 1 month after starting the program.
After cataract surgery, most patients with healthy eyes end up having good enough vision to allow them to pass the DMV vision test without eyeglasses. However, some patients find it difficult to see clearly and needs more time to fully adjust after cataract surgery.
Symptoms after cataract surgery include:
Trouble seeing traffic lights or cars at night
Difficulty seeing spots on clothes, counters, or dishes
Trouble recognizing facial gestures
Needing additional light to read
Experiencing tired eyes while watching television
The difficulty to see well after cataract surgery results in many cases from the reduction in contrast sensitivity, which is very common after cataract surgery. The difficulty to see well is also associated with need of the brain to adjust to the new lens and vision, this adjustment process is known as neuro-adaptation.
The reduction in contrast sensitivity is especially common in patients with multifocal IOL, which are designed with several focal points to accommodate different distances. This structure challenges different neurons in the visual cortex, responsible for processing different areas and distances, resulting in reduced detection point and increased neural noise level, causing low contrast sensitivity.
What is Contrast Sensitivity?
Contrast sensitivity is the ability to see objects that may not be outlined clearly, or that do not stand out from their background. Contrast sensitivity declines with age and after cataract surgery.
What is Visual Acuity?
Visual acuity is the ability of the eye to see and distinguish fine details. A visual acuity test is used to determine the smallest letters you can read on an eye chart.
Through the combination of the natural effects of aging and cataracts, contrast sensitivity and visual acuity decline.
RevitalVision trains your brain to see better without additional surgery, enhancements, drugs or side-effects.
About the Post Cataract program:
30 training sessions completed at home on a computer
Each training session takes 30 minutes on average
Customized to your pace and visual ability
Professionally monitored by your eye-care specialist
Recovery after cataract surgery:
Thousands of customers and clinical trial participants that completed the program have experienced improved eyesight and quality of life, including:
Reading small print, such as text on pill bottles or food ingredients
Better vision while driving - especially at night
Less eye fatigue while watching television
Increase vision by at least 150% on average
Improve by more than two lines on an eye chart
RevitalVision is the world's only proven therapy to dramatically improve vision after cataract surgery.
Recovery time after cataract surgery:
Most customers notice results in as little as 10 sessions completed at home.
Based on science created by Nobel Prize winner Dennis Gabor, RevitalVision is supported by more than two decades of scientific and clinical research.
On average, vision improves by two lines on an eye chart after completing RevitalVision.
Benefits from the post cataract treatment include:
Reading smaller print on a newspaper, menu, or computer screen
Reading better in low light conditions
Seeing objects better at night
Reducing or eliminating the need for reading glasses.
Train Your Brain to See Better:
The program uses neural training to improve your vision. Just like learning to walk, riding a bicycle and learning to swim have long lasting effects, so does RevitalVision. Clinical results prove that 85% of what you learn as part of your RevitalVision™ therapy is retained.
The Science:
Blurred vision from the eyes can be improved by enhancing brain processing. RevitalVision neural training is clinically and scientifically proven, unlike eye exercise programs that focus on relaxing eye muscles.
During the training sessions the user is presented with a series of precise visual tasks consisting of patterned images with subtle differences in orientation, size and contrast. Through repetitive practice the brain is trained to be more efficient and to improve visual processing. Specialized algorithms analyze performance and continuously adjust the individually customized training sessions to substantially improve vision.
Safety:
Extensively tested by reputable eye doctors and eye institutes in the U.S. and across the globe prior to being released for commercial use, the program is 100% natural and improves vision with:
No surgery
No glasses
No drugs
No known risks, side effects or complications.
The training sessions are completed in the comfort of your home and professionally monitored by an eye care specialist.
Getting started:
Consult with us if you feel that you are a suitable candidate for RevitalVision Post Cataract Therapy program. info@revitalvision.com
Gary shares his experience with RevitalVision's post cataract program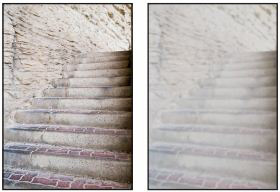 Normal contrast sensitivity​
Low contrast sensitivity​​
Improvement simulation of Visual Acuity​